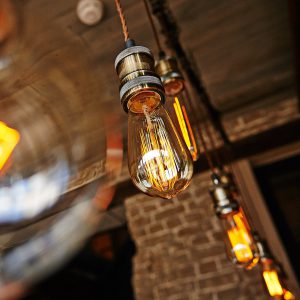 Okay, this is not a necessity. I'm just being honest, I'm sure you already have an overhead light or a lamp lighting up your recording area. Or maybe you're near a window and using that giant cosmic lamp we call the sun.
But you like to record at night, don't you?
And you like to have people over to your place every now and again, right?
In which case you want your place to be stylish. And nothing quite says 'tasteful artist' as quickly as lighting your space with edison bulbs does.
Our church recently set up a worship space and we wanted the atmosphere to be warm and inviting, so we invested in some edison bulbs with some lamps we purchased at Goodwill. They looked great, so I thought to myself, "I'd really like to get some Edison bulbs for my lamp at home. But dang, lighting can get expensive at [insert local building supply store here]."
So of course, I turned to Amazon.
Searching for 40w edison bulbs (I have a five-fixture lamp. I don't need 60w x 5 bulbs in there), the cheapest I found was from Longyee, offering six bulbs for $14 (correction 9/20/17: now up to $16). Of course, at the time of this writing, they only have one rating, but at least it's for five stars.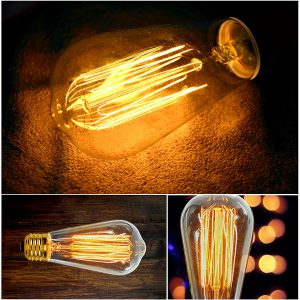 If I drop an extra $2, though, I can order them from Fulton Illumination who offers six bulbs for $16 and has 244 reviews. And for what it's worth, you can get 60w bulbs from them for $19, if that's more your speed.
However, if you need 60w bulbs for adequate lighting, why not try the 6-pack from Deneve for $12.50?
Frugality is the name of the game, folks. That's why I'm here. Still, our shared goal is creating art, and there is something about a well-lit creative space that
Enjoy your new space!